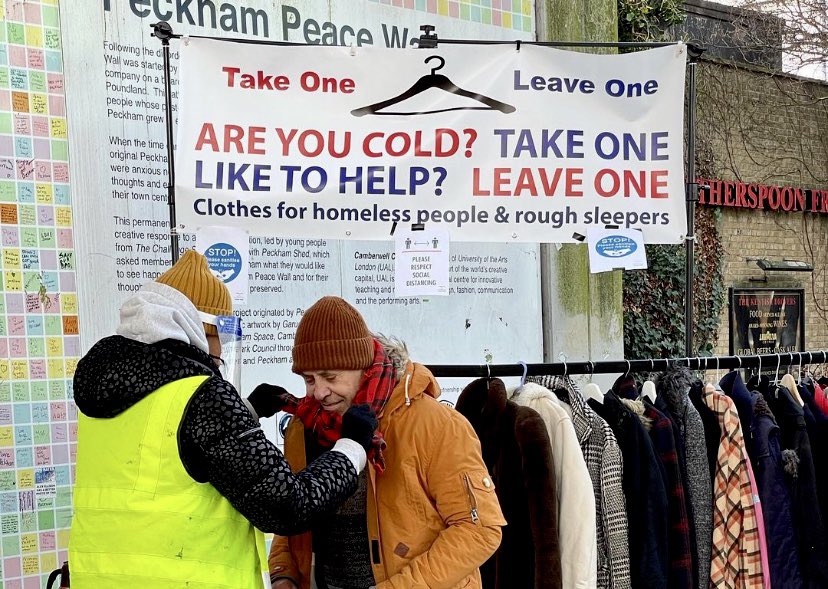 PRESS RELEASE  https://takeoneleaveone.org/
FOR IMMEDIATE RELEASE – 17 December 2021
Initiative to help homeless people and those facing hardship this winter, returns
Launch: Exmouth Market, Vauxhall Bus Station, 1pm – 2pm, 17 December
---
"I love this idea" Boy George joins other celebrities in endorsing TOLO

Boy George
As temperatures plummet across the UK, an innovative initiative offering a way for people to help rough-sleepers and those facing winter hardship, will be launched today in London and rolled-out nationwide in the coming weeks and months.
Take One Leave One is a surprisingly simple way to help homeless people by offering warm clothing and one experiencing hardship this winter.
A sign reading "If you are cold take one, if you can help leave one" is erected in public space beside a rail filled with warm clothing. The rail is replenished each day with coats, jackets, gloves, hats, scarves and blankets provided by people living and working in the area. Anyone in need, helps themselves.
---
"With freezing temperatures hitting Britain, this simple idea which can be replicated in any street in the world, is trying to ensure homeless people and anyone facing hardship can stay warm this winter,"

Take One Leave One, Stefan Simanowitz who began with just one rail outside his office in 2018.
"Take One Leave One is a sticky idea which is why it has spread. People see it and are inspired to get involved wherever they are. All you need is a rail, a place to put it and a sign which you can make yourself or order one."
Now in its fourth year, the idea has seen scores of rails spawn across the country and even overseas as far afield as the US and Canada. Two winters ago, more than 20 rails were set up around the UK and last winter more than 30 rails were set up. In pre-COVID days rails would stay outside churches or subways all day, every day, but COVID rules required that rails were manned and supervised.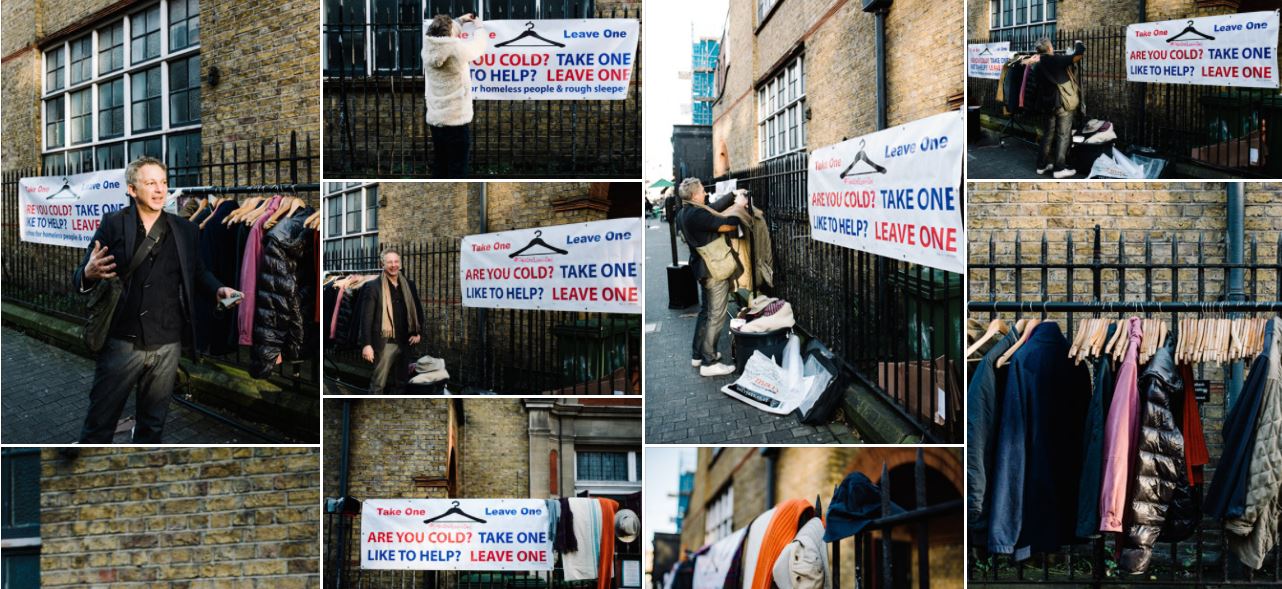 The launch event is happening at one such rail in Vauxhall that was set up in January 2021 and has been running every Friday, from 12 to 3pm
"We have a great team of dedicated volunteers who want to make a difference to people's lives, no matter how small. One of our volunteers met us when he was homeless. He visited us often and was so motivated he was able to seek accommodation and now volunteers with us every week," said Hayley Eroeola who helped set up and run the #TOLOVauxhall from the start.
"We see many new faces every week, but there are around 25 regulars who pop by for clothes and snacks but mainly for a cuppa and a chat. Many people can go a whole week without talking to anyone and that's where our team can step in. It is an honour to be there each week and support those in need."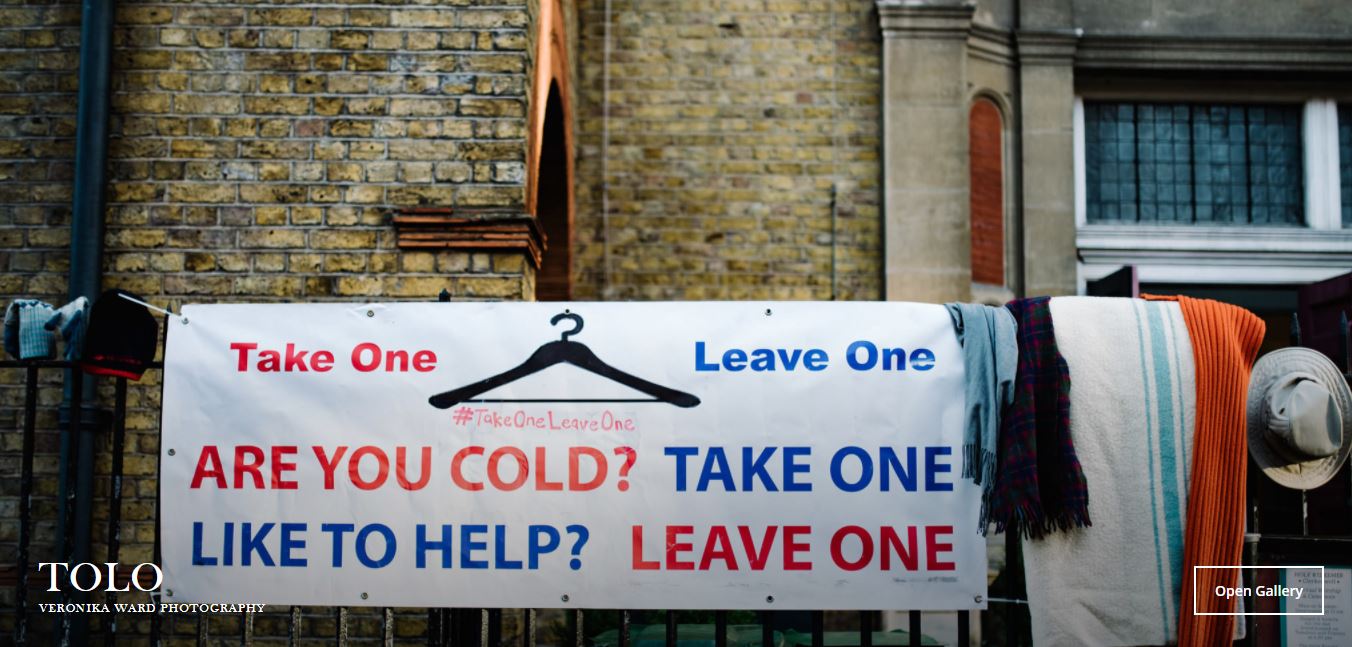 ---
The Take One Leave One idea has the received the thumbs up from homelessness charities including Centrepoint and Crisis and the Big Issue has helped promote the project for three years.
TOLO has also received celebrity support with visits from actor Rob Delaney and Tweets from the likes of Gary Linekar, Emily Maitlis and band Massive Attack who helped to promote the rail in Bristol.
"I love this idea. Please be kind" Boy George tweeted on launch day last year.
TOLO also has a new mascot this year in the shape of Farringdon Bear, a homeless stuffed Koala who was found on a train in Farringdon Station earlier this year and whose search for his owner went viral and hit the media. (read his story here https://twitter.com/StefSimanowitz/status/1447161699824508929)
Photos – Available on request
For more informationEmail: takeoneleaveuk@gmail.com
TWITTER – @Take1_Leave1
INSTAGRAM – @takeoneleaveone_ & @takeoneleaveoneUK, @tolo_newport, @tolostoke, @tolocheltenham, @tolonewcastle, @tolobromley, @toloedinburgh, @takeoneleaveonestroud, @tolocroydon, @tolobethnalgreen, tolo_whitechapel, @tolo_enfield, @tolofinchelyroad @tolopeckham, @tolofinsbury park, @takeoneleaveoneplymouth @kingstontolo, @brixton_tolo
Visit – https://takeoneleaveone.org/
To order a banner contact (£30 + p&p) mail@adlephigraphics.com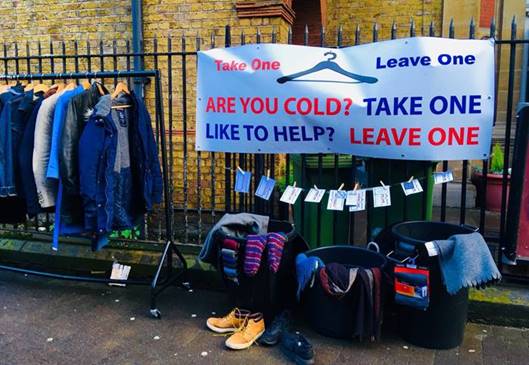 ---
FIND YOUR LOCAL TOLO RAIL RUNNING EVERY WEEK
Vauxhall – Fridays 12 – 3pm
Thornton Heath – Saturdays 2pm – 4pm
To find your local rail or find people who might help set one up, use the hashtag #TOLO + the name of your town/city (e.g. #TOLONewcastle) on Twitter and on Instagram
PLEASE NOTE: During the pandemic rails are fully COVID compliant with sanitisers and guidance
---
BACKGROUND
BIG ISSUE https://www.bigissue.com/latest/this-community-take-one-leave-one-initiative-is-fighting-the-cold-snap/
VOA – Video https://www.voanews.com/europe/mexican-idea-help-homeless-goes-global-take-one-leave-one
Whilst Take One, Leave One may offer some respite for rough sleepers in the coming weeks, initiatives such as this can only have a small, short-term impact. What is needed is government action. In Finland, homelessness was eliminated through its "housing first" policy which offers people who need them permanent places to call home.
For more information about homelessness contact: Albert Kennedy Trust; Centrepoint; The Connection at St Martins; Crisis; Depaul; Homeless Link; Housing Justice; LandAid; New Horizon Youth Centre; Providence Row; Shelter; St Mungo's; Thames Reach; The Big Issue Foundation; The Passage; The Salvation Army; West London Mission; YMCA England
---
SET UP YOUR OWN RAIL
1. Get a clothes rail
2. Find good location (ideally sheltered from the rain)
3. Get the green light from locals
4. Make a sign or order a banner for £30 + p&p from mail@adlephigraphics.com or contact takeoneleaveuk@gmail.com for a free starter pack
5. Collect warm clothes and hang them on the rail
6. Make sure it is fully #COVID safe
7. Contact local media (we can provide a template press release)
8/. Post on social media – Set up a Twitter / Instagram site using #TOLO plus the name of your city/town/village. You can also use this hashtag (e.g. #TOLOGuildford to see if there is already a rail near you OR to find local people who might be happy to help.